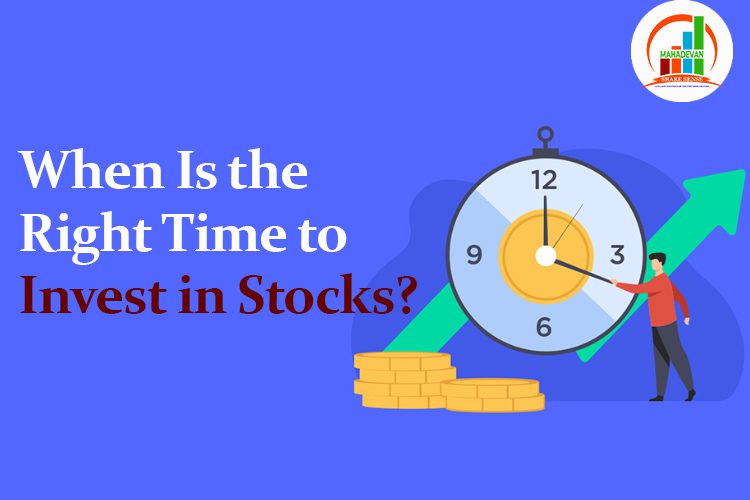 The beginners in the share market keep wondering – when is the right time to invest in stocks? But the most popular saying about the share market is that there is no best time to start investing in stocks. Warren Buffet says that 'Investing is about TIME in the market and not TIMING the market.' The following points will help you identify the right time to invest in the stock market:
When You Learn How the Stock Market Works
A successful investor is well aware of the functioning of the stock market. If you are a beginner, spend time understanding the markets, how the stocks move, what all factors affect their movement, different types of stocks and the risks associated, and the different strategies to become a successful trader or investor in the market. Learning about the share market is the first and the most important step to start your journey as an investor.



When You Have the Required Funds for Investing
We all know that investing demands money to fulfill your financial goal, be it a retirement corpus or buying a house. But the route to investing should be taken only if you have sufficient funds to take care of your essential needs. Therefore, you need to plan a monthly budget that covers your routine monthly expenses and an emergency fund for sudden costs. Once these 2 things are taken care of, you can allocate funds for investment purposes.
When You Are Aware of the Procedures and Costs of Investing in Share Market
You cannot trade or invest in the share market without a Demat account, a trading account, and a bank account in your name. You will have to complete all the KYC formalities too. If you are new to the share market, understand the application procedure and submit the required documents. You can even hire a broker to do the needed paperwork.
Along with this, you should also know the costs of purchasing or selling the stocks. Demat accounts come with an annual maintenance charge and each trade comes with taxes and brokerage. Ensure that you are aware of the procedures and costs of investing before you enter this field.
When You Know Your Investor Profile
Each investor has a different set of financial needs, investment budgets, and preferences. Hence, before you find out when is the right time to invest in stocks, you must learn the following things about yourself:
1.1 Financial Goals – As an investor or trader, you must know what your financial goal is. Is it building a retirement corpus or buying a house? Are you planning to save for your child's higher education? There could be multiple reasons for investing. But identifying your goals is essential as it will help you create an investment strategy that works best for you.
1.2 Risk Appetite – Investing in stocks is a risky business. In other words, investment risk is directly proportional to the potential returns. Therefore, higher risk means a higher scope of return on investment and vice versa. Even though all investors wish to earn money, not all of them can take higher risks. If you have limited capital to invest but you end up investing in an instrument with higher risk, you may end up losing your hard-earned money.
On the other hand, if you wish to play safe and invest in an instrument that offers lower risk with lower returns, you may not be satisfied with the return on your investment. Therefore, every investor must be aware of his financial goal and risk appetite as one investment strategy may not work for all, be it a beginner or an experienced investor.
1.3 Time Horizon – This is a crucial aspect of investing and you need to decide the time for which you intend to stay invested. This will entirely be based on your financial goals. If you are planning to save for your retirement, the time duration will be more as compared to the one needed for your child's higher education. Different types of stocks can be used for different requirements with different periods.
You must find out if you want to be a long-term investor or intra-day trader. Long-term investing requires patience. You need to study the company, its plans and carry out a detailed fundamental analysis. You can ignore day-to-day fluctuations in the stock price as you are invested for the long term.
On the other hand, trading requires an understanding of stock market movements, market cycles, and being able to read technical charts. You can carry out the technical analysis based on charts like bar charts, line charts, candlestick charts, etc. First-time traders should avoid speculation without proper technical analysis. This can lead to potential losses in the stock market.
Key Points to Remember
There is no fixed right to invest in the stock market. You can start investing the moment you feel ready to enter the market.
Market crashes should not always be seen as an opportunity to make profits. You may end up buying stocks that may not recover from the crash. Hence, you should invest in stocks only after carrying out a detailed technical or fundamental analysis. This will help you gain clarity in picking the right stock for your portfolio.
The internet has infinite information about investing in the stock market. If you follow all the advice blindly, you may lose your hard-earned money in the market.
First, learn the ABC of the stock market and then pick the right stocks to fulfill your financial goal.
Frequently Asked Questions
Can I buy stocks when the market is rising and gain benefit from the uptrend? Or, should I wait for the market to crash and then purchase the stocks at a cheaper price?
One should not try to time the market as it can turn out to be counterproductive if not done right. There are no fixed rules to succeed in the market. If you are a long-term investor, you should avoid day-to-day fluctuations in the price and focus on picking the stocks that are undervalued and have the potential to grow in the future. You need to do fundamental analysis to find out the best stocks for investing.
How much money can I put aside from my salary to invest in stocks?
Put aside the money that you need for your daily expenditures and keep some money as an emergency fund to manage sudden costs. Create a monthly budget to fulfill these requirements and then allocate some money for investment purposes. Also, you must find out your risk tolerance level and then invest accordingly.
Is it essential to have a stock investment plan?
Yes, each investor has a unique set of financial requirements and risk appetite. Thus, you must create an investment plan that fulfills your financial goals and caters to your risk tolerance levels.
Summing Up
Each investor has a unique financial goal and a different risk appetite. Therefore, we can say that one investment strategy won't work for all investors (beginners or experienced ones). Now that you know when is the right time to invest in stocks, you can carry out the required fundamental or technical analysis and choose the best stocks for a positive return on investment.
Happy Investing!